I have not made a lot of handmade rose polymer clay canes over the last few years. I usually do not have a call for roses in my designs, or I just never think about adding any roses. Either way, I have not created a lot and have fiddled with different tutorials over the years on how to create a rose. I think the first rose cane tutorial I saw was Donna Kato's in her first big Polymer Clay Book. At least, I think that is where I saw it….
This is a wonderful book to help you to develop the techniques necessary to start with polymer clay, but advanced enough that you can go from the beginning to intermediate in a short time.
Anyway, whether I saw the first rose there or not, the book is great.
Now, on to the roses.
I have been scouring the web and pinterest and other sites for rose tutorials. I have found a few that I may pick up later, such as Marcia's amazing rose tutorial:
All of Marcia's tutorials are on this page and you can buy it through her website or on etsy. Her roses are gorgeous and in order for me to get the amazing detail that she gets, I will need her tutorial.
Here are my little roses that are better than usual, but nothing like Marcia's.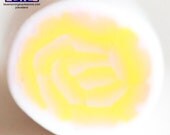 Not all color combinations a good rose will make :)
Enjoy these and I will keep working at creating them.
Julie and Blu